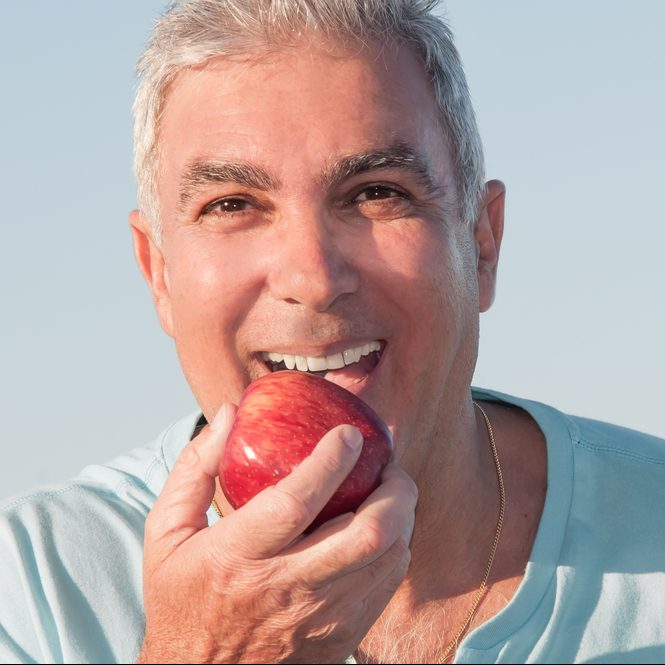 Implant Durability Through Aftercare
In the hours and days following oral surgery, it's common to experience some minor bleeding, swelling, and discomfort; but you should feel better in only a few days. If bleeding persists, call us for additional instructions.
An over-the-counter pain medication like ibuprofen, can be used to manage discomfort and reduce swelling.  Prescription pain medication may also be an option.  During the first 24 hours, you can intermittently apply ice to the area to reduce swelling. Patients may need antibiotics after the implant procedure. 
To reduce swelling and pain, patients must:
Not smoke for 10 days or drink alcohol for 48 hours following oral surgery.
Take no hot liquids for the first 24 hours.
Cool pureed diet (like smoothies) are best for the first day.
What Our Happy Patients Have To Say
Nova Denture and Implant Centre is the best place to go for any dental surgery. Excellent service, friendly team and wonderful care. Very competitive prices. I feel very confident in my smile now - thank you!!
Heidi Li
My new prosthesis was made at Nova Denture and Implant Centre in Ottawa. I appreciated the friendly and swift service offered. The quality of work was excellent and small adjusting issues were promptly corrected during the trial period. In my opinion the price was very competitive. I would not hesitate to recommend this highly professional team.
Jose Guevin
Such an incredible team of people who not only are professional but walk you through the process with the utmost respect and care. You feel welcomed and comfortable with their team and the free consultations are a HUGE plus. I'd recommend chatting with their team if you're interested in learning about their unique process of creating a personal smile just for YOU. Thanks again Nova 🙂
Caroline Hicks
Professional, courteous, bilingual, and very affordable compared to many other dentists in Ottawa. Payment plans offered.
Pierrette Leonard
I went with my family member to have her procedure done with Dr Dan. The staff were kind, patient and explained everything to us from what the procedure was to every detail in the post-surgery instructions. They were very thorough! I would suggest to anyone needing work done to go see Dr Dan and his team!
Maggie Bresee
Avoid Potential Problems with Oral Care
Proper oral hygiene is essential to a successful healing process, but you don't want to disrupt healing with overzealous cleaning.  You can gently brush and floss the area the day of the procedure, but you shouldn't rinse.  The following day, you can start gently rinsing a few times each day, preferably just after meals, with a warm saltwater solution. 
Insufficient oral hygiene is another major issue that could impact the long-term success of a dental implant.  Immediately after the implant procedure, patients need to follow precise cleaning instructions. 
You are making an investment in the long-term success of your dental implants by choosing Nova Implant Centre. Your implants will be carefully maintained by our devoted team to keep them sturdy, useful, and aesthetically pleasing. Get started on your journey toward a healthy and radiant smile today.
FREQUENTLY ASKED QUESTIONS
Answers to
Same-Day Denture FAQs